Celebrating the Dark Skies of Northumberland
Welcome to Northumberland Astro ! This website is dedicated to astronomy and enjoying the night sky in Northumberland. The county of Northumberland in Northern England is lucky to have a number of areas where you may find dark skies at night. Well populated towns like, Ashington, Hexham, Alnwick and Berwick on Tweed all emit a blaze of "sky glow". However, the large distances between these major light sources ensures that many rural areas still remain relatively dark at night. This darkness allows better night sky viewing when compared to more populated/light polluted areas elsewhere. In these dark sky areas many well know features of the night sky may be visible. The Milky Way, Aurora Borealis (The Northern Lights) and Noctilucent Clouds are all possible in Northumberland. For those who want to use telescopes and explore a little deeper, the reduced effects of light pollution can offer naked eye views of galaxies and other deep sky objects. This would be impossible from many other areas. The reduced light pollution and darker skies also provide favourable conditions for astrophotography. Dark skies allow longer camera exposure times and the ability to gather more detail in photographs.
Interested in exploring the wonders of the night sky ? Northumberland is full of opportunities.
Northumberland has some of the darkest skies in the UK. As a result people visit the area to view the night sky. There are a number of astronomy observatories both professional and amateur.
Perhaps the most well known observatory in Northumberland is in Kielder Forest (one of the darkest sites). It hosts regular astronomy events for visitors.
Landscape Astrophotography
Northumberland is famous for its beautiful countryside, landmarks and in particular castles. There are some popular sites for landscape photography that also sit in dark sky areas. These 'dark sites' lend themselves to landscape astrophotography.
Northumberland is a great area for astrophotography. The darker skies allow camera sensors to take long exposures and gather fine detail of galaxies and nebulae without swamping them with light pollution.
For this reason many amateur astrophotographers who live in towns will drive out and find 'dark sites' to carry out their hobby. Northumberland is a good option for a 'dark site'.
Northumberland is one of the best areas in the UK to observe the Aurora Borealis or 'Northern Lights'. However, the Aurora isn't a common sight at UK latitudes. You'll need to have suitable conditions and luck on your side to catch a view !
"The whole thing is so much bigger than I am, and I can't understand it, so I just trust myself to it; and forget about it."
If you are in Northumberland and want to enjoy the night sky, first you need to consider the viewing conditions. For the best views of space you need to be away from the 'sky glow' created by towns. The sky will also need to be free of clouds to see the stars and ideally moonless too. Of course the latter doesn't apply if you want to look at the Moon specifically !
The Moon is amazing but also brings with it lots of light. This causes a glow similar to light pollution and reduces visibility of most other objects we can see in the night sky. Because of this, people looking for the Milky Way, Deep Sky Objects or the Aurora Borealis tend to avoid nights when the moon is up.
Below are some useful 'quick check' resources for planning a night out under the stars in Northumberland.
Check here to see the current moonphase
Current Moon Phase

Waning Gibbous Moon
The moon is 17 days old
Distance: 61 earth radii
Ecliptic latitude: 4 degrees
Ecliptic longitude: 104 degrees
This map of Northumberland shows the main sources of light pollution, useful for planning visits to a dark sky area. As you can see from the map, south west Northumberland is affected by strong light pollution from Newcastle upon Tyne and surrounding towns. Away from this area there are a few other towns that emit some sky glow but many rural areas are much darker.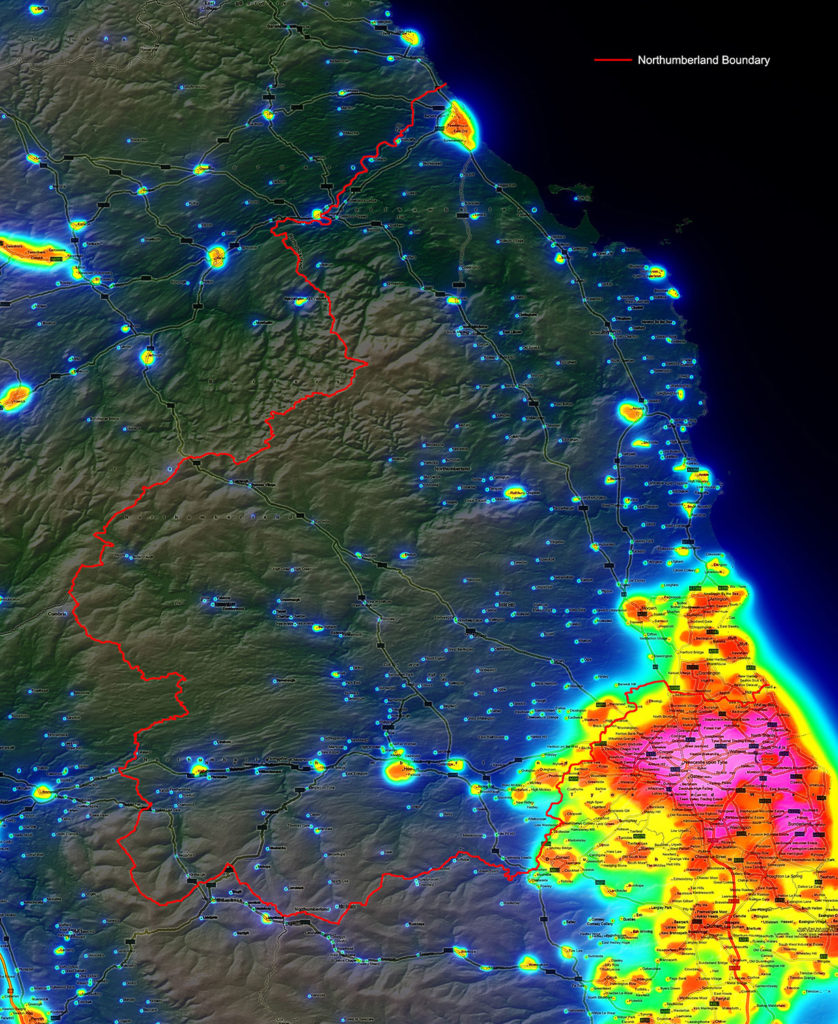 Fancy seeing the
Aurora Borealis
in Northumberland ? These two sources of information will give you a quick idea of current aurora status and whether you may be lucky ! The NOAA Aurora Forecast Map is a good visual indicator. It allows you to see the latitude of the aurora and whether it is reaching as far south as the UK on any given night. The real time ACE satellite data tells us the speed and density of the solar winds that cause the auroras. Solar wind density and speed are important but the key information here is the BZ graph, this tells us about the current interplanetary magnetic field. For aurora activity to occur this magnetic field must swing to the south (the red line must drop below the dotted line).